Major Requirements
The Anthropology major consists of 12 upper division courses (48.0 units). There are no lower division requirements. All courses must be taken for a letter grade of C- or better (effective FA16). 
Please note: Lower division courses can overlap between your major, minor and college requirements. Students may overlap two upper division courses between your major and minor by submitting a request in the VAC.
Students must select one of the following concentrations:
Course Requirements
3 Core Classes
ANTH 101: Foundations of Social Complexity (Fall)
ANTH 102: Humans Are Cultural Animals (Winter)
ANTH 103: Sociocultural Anthropology (Spring)
4 Upper Division Concentration Courses   
Archaeology: 

ANAR 

courses
Biological: 

ANBI 

courses
Sociocultural: ANSC courses as specified below:

Any THREE of the following: ANSC 118, ANSC 120, ANSC 121, ANSC 122, ANSC 123, ANSC 124, ANSC 125
ONE ANSC w/region, country or religion focus in addition to above courses.
5 Upper Division Electives
---
Resources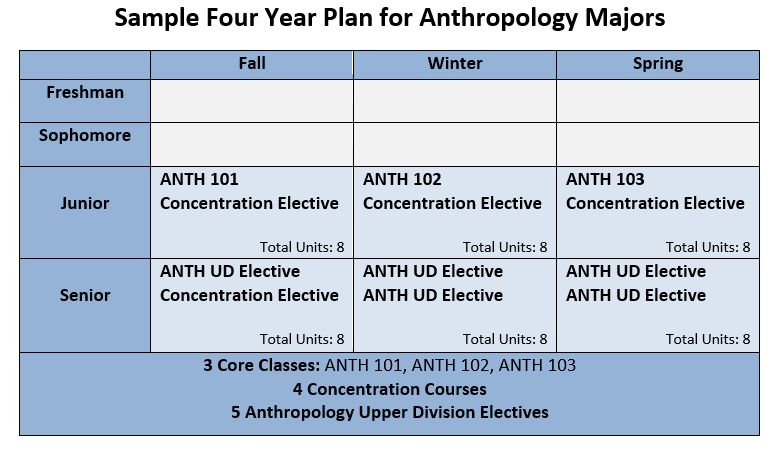 You can also plan out your courses by using the College and Major Planner.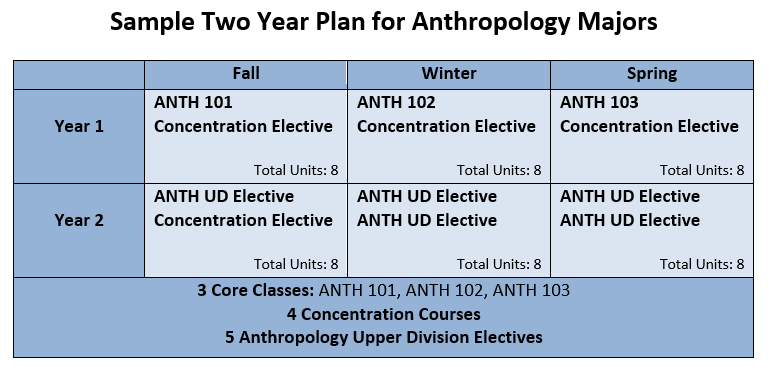 Frequently Asked Questions
Contact an Advisor
Virtual Advising Center (VAC)
anthroadvising@ucsd.edu
Stop in during Walk In Advising Hours
Social Science Building Room 210
[click here for more details]
For questions regarding your GE and University requirements, please contact your college advisor: