Department of Anthropology Study Abroad
Faculty from the Department of Anthropology offer field schools and Global Seminars that students may participate in to fulfill degree requirements.  

Summer 2017
Application Deadline: June 2, 2017
Program Description
Are you interested in ancient ruins?  Want to study abroad but to work or be on campus during the school year? Want to quickly earn units for a UC San Diego anthropological archaeology major? Then this course may be for you!
Over a period of 16 days, we will visit more than 30 ancient Mediterranean sites in the nations of Malta and Italy.  We will see ancients where some of the earliest inhabitants of Europe lived during the Ice Age, explore the first stone temples in the world going back to 4,000 B.C., tour incredible Phoenician and Carthaginian sites, visit the best-preserved ancient Greek cities anywhere, and study the roman villas of Pompeii and Herculaneum, preserved for 1,900 years beneath volcanic ash.  Most importantly, we will learn about the contributions of these civilizations to the creation of the Mediterranean world.
We also will wander enchanting medieval cities built by Normans, Arabs, and Italians, eat delicious food, climb the active Etna volcano, and enjoy the beautiful coasts of Malta, Sicily, and Campania, Italy.
For details, please click on the links for Application (with detailed itinerary) and Handbook.
Courses
ANAR 135S. Ancient Mediterranean Civilization: Study Abroad Program that examines the origins and history of ancient Mediterranean civilization from the late Neolithic period through the Classical era. During the course, students will visit some of the most important archaeological sites in the world, from the ancient megalithic temples of Malta, to Phoenician colonies of the early iron age, to the Carthaginian and Greek cities of Sicily, and ending with Roman Pompeii and Herculaneum, destroyed by the eruption of Vesuvius in A.D. 79.
ANTH 198. Directed Group Studies (Optional): Directed group study on a topic or in a field not included in the regular departmental curriculum by special arrangement with a faculty member. Student may take this course twice for credit. Please note: Majors and minors may only apply four units of approved P/NP credit toward the major.
Itinerary
Malta: August 24-28
Hal Salflieni Hypogeum, Tarxien Temples, Ggantija Temples, Skorba, Ta' Hagrat, Mnajdra, Hagar Qim, Xaghra Circle, Ghar Dalam Cave, Domus Romana, St. Paul's Catacombs, Mdina Cathedral, National Museum, Gozo Museum, St. John's, Grand Master's Palace, St. Elmo Fort, and Inquisitor's Palace, plus special outings to Gozo Island, the Azure Window, and the Blue Grotto and ferry trip to Sicily.
Sicily: August 29-September 3
Valley of the Temples, Taorina, Selinunte, Castello Eurialo, Megara Hyblaea, Casale Imperial Villa, Eraclea Minoa, Segesta, Mozia, Syracuse Archaeology Museum & Park, Duomo, Cusa Cave, Monreale, La Martorana, Capuchin Catacombs, and tours of Siracusa, Erice, Agrigento, Catania, and Palermo, as well Mt. Etna climb, boat tour, day on the beach, and over-night ferry to Naples.
Campania, Italy: September 4-8
Pompeii, Herculaneum, Paestum, Boscoreale, Oplontis, Stabia, Velia, and National Museum, with tour of Amalfi coast and Naples 
Meet the Professor: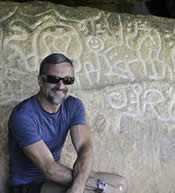 Geoffrey Braswell received his doctorate from Tulane University in 1996 and is Professor of Anthropology. His research interests include settlement pattern studies, geoarchaeology, lithic production and technology, archaeometry, mathematical methods, the emergence of complex society and economic systems, and alternative models of social and political systems. His geographical specialization is among the Maya and Mesoamerica more broadly.
How to apply?
Step 1: Complete the program application, and email or deliver it to the Department of Anthropology for approval.
Step 2: Make the payment of $2495 by check, and deliver to the Cashier's Office at UC San Diego by June 2, 2017.
Step 3: Enroll in ANAR 135S and ANTH 198 (optional) on WebReg during enrollment for Summer Session II.
Need more help? Contact an advisor.

Medical Anthropology and Global Health in South Asia - Global Seminar
Application Deadline: April 4, 2017
For more information, visit UC San Diego Global Seminars.
Course Description
ANSC 190GS.  Medicine and Healing in South Asia: This course introduces students to the field of medical anthropology as it pertains to South Asia. This course will be divided into two parts. First, we will analyze how religious, cultural, political and economic structures impact health and wellbeing. Second, we will look at ethnomedicine, that is, how local systems of healing provide alternative ideas of illness and health, such as medical pluralism and Ayurveda. 
ANSC 191GS.  Everyday Life in South Asia: While this course offers an in-depth engagement with a specific region of the world, South Asia has also been a key site from which scholars have thought through major themes, including social organization, everyday life, religion, nationalism, violence/conflict, and globalization. As such, this course also offers an engagement with anthropological theory, which will allow you to question and deconstruct dominant clichés about South Asia. 

Professor Saiba Varma is a medical and cultural anthropologist working on questions of violence, medicine, psychiatry, and politics as they pertain to Indian-controlled Kashmir and South Asia more generally. She spent twenty months doing ethnographic research in Kashmir. In her research, she explores how spaces of psychiatric and humanitarian care confront, but also become microcosms of, the broader politics that characterize life in Kashmir.
How to apply?
Step 1: Apply for the program using TritonAbroad portal.
Step 2: Enroll in ANSC 190GS and ANSC 191GS on WebReg during enrollment for Summer Session.

Development, Human Rights, and Environmental Justic in India - Global Seminar
Application Deadline: April 4, 2017
For more information, visit UC San Diego Global Seminars.
Course Description
ANSC 192GS. Rethinking Development: This course examines the colonial roots of poverty and inequality and the production of development as a social, political, and economic field. Focusing on India, we will look at current and past development strategies like rural development, womens empowerment, and microfinance, to consider the possibilities and limitations of development as a means of eradicating poverty and creating social change. Finally, we ask how Western liberal notions of growth and industrialization might be complemented by Buddhist notions of compassion, community, and interdependence.
ANSC 193GS. Human Rights Environmental Justice: In a moment when our planet faces destruction due to climate change, this class offers a space to rethink human beings relation to the environment. Can we say that there is a human right to enjoy life on this planet? How do social hierarchies, like race, class, and gender, structure such rights? What is environmental justice? What are the spiritual, moral, and legal foundations for environmental justice? How are struggles for land, environmental safety, and climate change made more visible or legitimate by framing them as human rights? We will think about these questions by focusing in part on case studies from India.
Nancy Postero is a member of the Anthropology Department and Director of the Human Rights Program at UC San Diego. Her research examines the relation between race, politics, and political economy. Prior to coming to UC San Diego in 2001, she was a criminal defense and human rights attorney and a journalist.
How to apply?
Step 1: Apply for the program using TritonAbroad portal.
Step 2: Enroll in ANSC 192GS and ANSC 193GS on WebReg during enrollment for Summer Session.
Past Programs
Peru Field School with Professor Paul Goldstein
 Course Description
ANAR 119S. Archaeological Field School in Peru (8 units): The archaeological field and laboratory class will take place at Moquegua, Peru. It is an introduction to the research design of interdisciplinary projects, the technique of data collections, the methods of excavation and postexcavation lab work.
ANAR 157S. Early Empires of the Andes: The Middle Horizon (4 units. Optional): The civilizations of Wari and Tiwanaku built the first empires of Andean South America long before the Inca. Middle Horizon (AD 500 - 1000) mythohistory, urbanism, state origins, art technology, agriculture, colonization, trade and conquest are explored using ethnohistory and archaeological sources.
2016 Chile Global Health Field School with Professor Paula Saravia
Course Description
ANSC 105S. Global Health and Inequality (4 units): Why is there variation of health outcomes across the world? We'll discuss health and illness in context of culture and address concerns in cross-national health variations by comparing health-care systems in developed, under-developed, and developing countries. Study the role of socioeconomic and political change in determining health outcomes and examine social health determinants in contemporary global health problems: multidrug resistance to antibiotics, gender violence, and human trafficking, etc.
ANSC 106S. Global Health: Indigenous Medicines in Latin America (4 units): Drawing on medical anthropology ethnography, students will explore a variety of forms of healing among rural and urban indigenous communities. A particular focus on intercultural health will allow the students to analyze contemporary medical landscapes where patients encounter indigenous and Western medicine. Students will learn about the complexities of urban and rural indigenous healing settings and their sociopolitical significance in contexts of state biomedical interventions.
Egypt Field School with Professor Geoffrey Braswell
Course Description
ANAR 145S. Egypt of the Pharaohs (4 units): Introduction to the archaeology, history, art, architecture, and hieroglyphs of ancient Egypt. Taught in the field through visits to important temples, pyramids, palaces, and museums in Egypt.