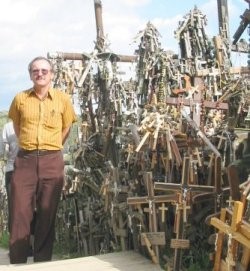 Profile

David K. Jordan received a Ph.D. in anthropology from the University of Chicago in 1969. His academic interests center in cultural and psychological anthropology, sociolinguistics, and the cross-cultural study of religion. Regional interests focus on Chinese society, especially in Taiwan, with a secondary interest in pre-Columbian Mexico.

Jordan has published on language, social structure, folk religion, and sectarianism in Taiwan and China and has written in and about Esperanto and the social movements associated with it and the associated area of interlinguistics.

His recent courses have concerned Taiwan, China and pre-Columbian Mexico, as well as the ethnography of Christianity. He has also taught the first quarter of Eleanor Roosevelt College's core sequence, "Making of the Modern World" ("MMW") in most years since the college was founded. (See his own web page for details.) 

Jordan joined the anthropology faculty at UCSD in 1969. From 1994 to 2004 he also served as head ("provost") of Earl Warren College, one of UCSD's six undergraduate colleges, at the end of which time he was described by the Chancellor as "a campus personality."

Jordan retired in 2004, but continues actively teaching in "Making of the Modern World" as well as in the department.