Anthropology Current Course Offerings
---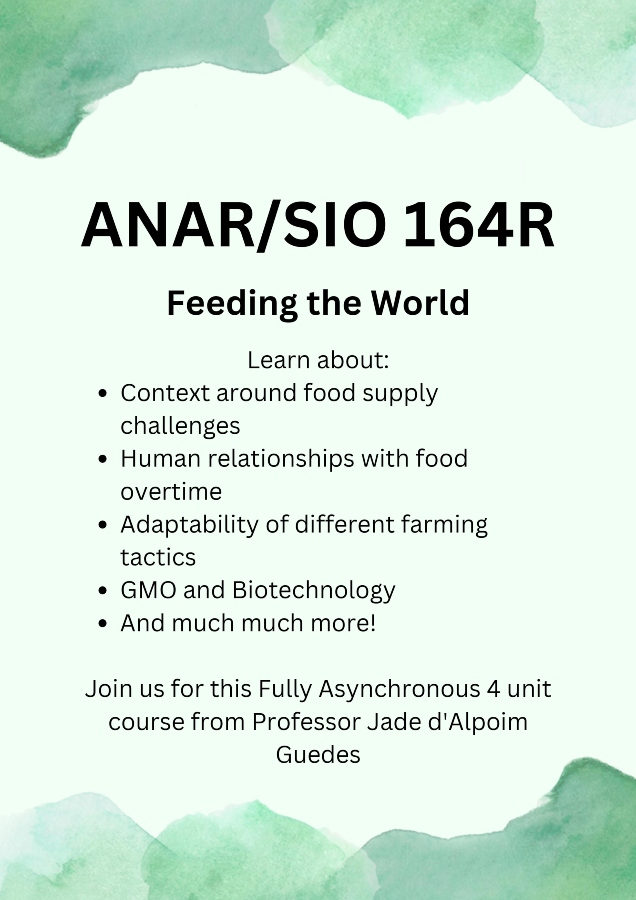 Please note that courses are tentative and subject to change. Please check back frequently for updates and check the schedule of classes.  
Study Abroad and Field Study Opportunities
Course Pre-Authorization or Late Add: 
Students with lower division standing who would like to take an upper division course or those who don't meet a course pre-requisite, please submit a 

pre-authorization request

 here.
Quarterly Deadlines
Week 2 - Deadline for students to add classes
Week 4 - Deadline to drop a class without a W grade, change grading options or units
Week 6 - Deadline to drop without F grade 
For a list of Anthropology course descriptions, please see the 
general catalog
.
Anthropology DEI Courses
ANTH 4. Words/Worlds/Intro to AN/Lang
ANTH 10. Climate Justice 
ANTH 21. Race and Racisms
ANTH 23. Debating Multiculturalism: Race, Ethnicity, and Class in American Societies
ANTH 43. Introduction to Biology and Culture of Race
ANTH 105. Climate Change, Race, & Unequal 
ANAR 117. Archaeological Field and Lab Class, Southern California
ANBI 130. Biology of Inequality
ANBI 131. Biology and Culture of Race
ANCS 104. The US-Mexico Border 
ANSC 113. Language, Style, and Youth Identities
ANSC 122. Language in Society
ANSC 131. Language, Law, and Social Justice
ANSC 145. Indigenous Peoples of North America
ANSC 162. Lanugage, Identity, and Community