Anthropology Current Course Offerings
---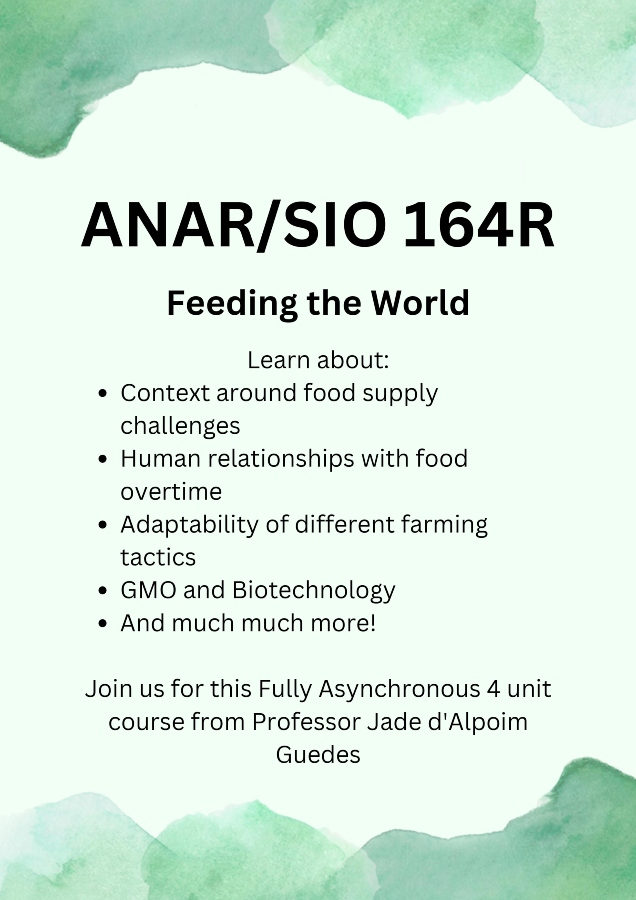 Study Abroad Courses Offered by the Anthropology Department
ANAR 135S. Ancient Mediterranean Civilization 


Study Abroad program that examines the origins and history of ancient Mediterranean civilizations from the late Neolithic period through the Classical era. During the course, students will visit some of the most important archaeological sites in the world, from the ancient megalithic temples of Malta, to Phoenician colonies of the early Iron Age, to the Carthaginian and Greek cities of Sicily, and ending with Roman Pompeii and Herculaneum, destroyed by the eruption of Vesuvius in AD 79. Students are required to apply for this Study Abroad course. Program or materials fees may apply. Prerequisites: upper-division standing. Department approval required.
ANAR 155. Study Abroad: Ancient Mesoamerica 


This course is an introduction to the archaeology of Mesoamerica and will provide students with the opportunity to gain practical skills from the field. Students will learn hands on by visiting significant ancient cities and museums in Mexico and Central America. Students may receive a combined total of twelve units for ANAR 155 and ANAR 155S. Program or materials fees may apply. Prerequisites: students must apply to study abroad department program and obtain consent of instructor.


Eligibility requirements:

 - 18 years or older
 - Current passport holder, valid for at least 6 months after the trip
 - UC ID#
 - Good academic standing
 - Visa, if required, for entry into the country of the trip
 - Complete application, including essay and signed medical forms.

I do not consider incomplete applications, and ask students to hold off submitting them until they are complete.

Criteria for ranking applications (in no particular order):

-Priority given to anthropology majors, followed by majors in history, visual arts, classics, or Latin American studies (the last two depend on the program).
-Priority given by demonstrated need for the credits to graduate
-Less Priority for students who have participated before in my study abroad programs
-Priority given to students by year in the program, if they have not participated before.
-Priority given by GPA (and generally no one under 2.5)
-Priority given by hotel/dormroom-filling criteria (students generally admitted in groups of three by gender)
-Priority given by quality of essay, and explanation of how the program fits with educational goals

 Please note that courses are tentative and subject to change. Please check back frequently for updates and check the schedule of classes.  
Study Abroad and Field Study Opportunities
Course Pre-Authorization or Late Add: 
Students with lower division standing who would like to take an upper division course or those who don't meet a course pre-requisite, please submit a 

pre-authorization request

 here.
Quarterly Deadlines
Week 2 - Deadline for students to add classes
Week 4 - Deadline to drop a class without a W grade, change grading options or units
Week 6 - Deadline to drop without F grade 
For a list of Anthropology course descriptions, please see the 
general catalog
.
Anthropology DEI Courses
ANTH 4. Words/Worlds/Intro to AN/Lang
ANTH 10. Climate Justice 
ANTH 21. Race and Racisms
ANTH 23. Debating Multiculturalism: Race, Ethnicity, and Class in American Societies
ANTH 43. Introduction to Biology and Culture of Race
ANTH 105. Climate Change, Race, & Unequal 
ANAR 117. Archaeological Field and Lab Class, Southern California
ANBI 130. Biology of Inequality
ANBI 131. Biology and Culture of Race
ANCS 104. The US-Mexico Border 
ANSC 113. Language, Style, and Youth Identities
ANSC 122. Language in Society
ANSC 131. Language, Law, and Social Justice
ANSC 145. Indigenous Peoples of North America
ANSC 162. Language, Identity, and Community