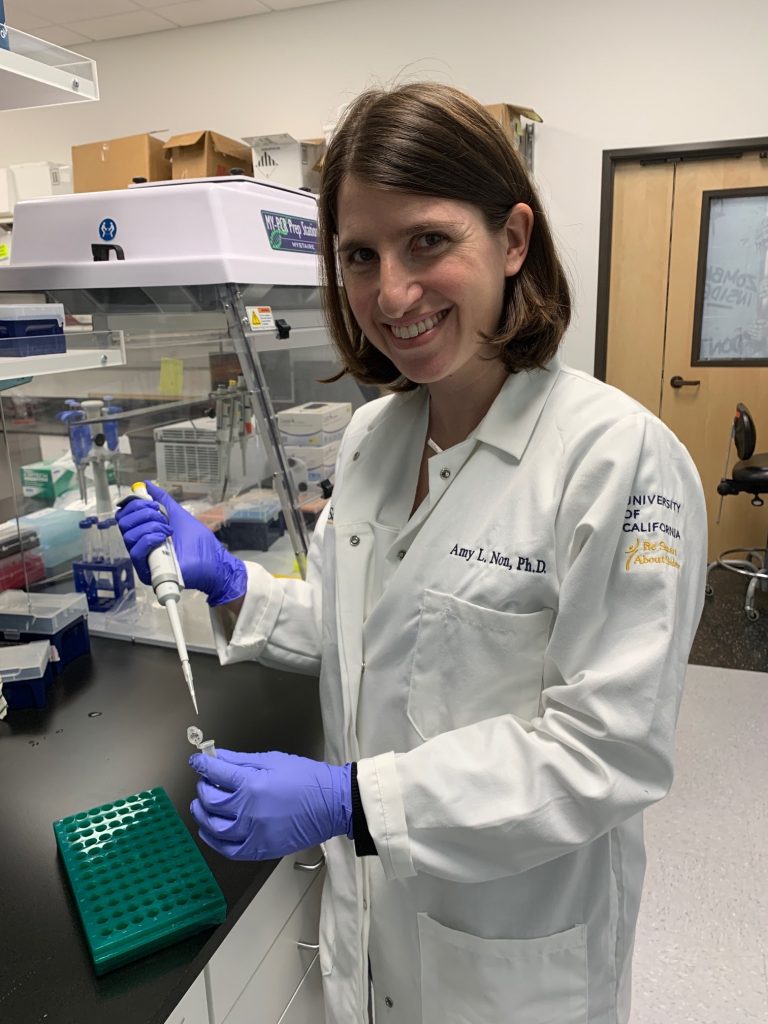 Profile
Research
Publications
Profile

Dr. Amy Non is a genetic anthropologist with an interest in the genetic and sociocultural contributors to racial and social inequalities in health. Her research focus is to understand how social experiences can become biologically embedded to affect health throughout the life course. Her newest project is an investigation of epigenetic consequences of stressors experienced by children of Mexican-born immigrants. In past research, she has investigated the role of African genetic ancestry and sociocultural measures of race and socioeconomic status in explaining racial inequalities in blood pressure, both in Puerto Rico and in the US.
Education
Ph.D. in Anthropology, University of Florida (2010)
Robert Wood Johnson Health and Society Scholar, Harvard University (2010-2012)
Research

Biological Embedding of Stress in Children of Mexican Immigrants

The goal of this project is to determine how stress among immigrant children may become biologicall embedded to predispose them to higher rates of cardiometabolic disease later in life. We plan to specifically examine how early life stress may disregulate the hypothalamic pituitary adrenal axis and alter biomarkers of the cardiometabolic system.
Publications
Articles
2016 Non, AL, Hollister, BM, Humphreys KL, Childebayeva A, Esteves, K, Zeanah, C, Fox, NA, Nelson, CA, Drury, SS. DNA Methylation at Stress-related Genes Associated with Exposure to Early Life Institutionalization. American Journal of Physical Anthropology: September; 161(1): 84-93.
2016 Hollister, BM, Restrepo, NA, Farber-Eger E, Crawford DC, Aldrich MC*, Non, A.* Development and Performance of Text-mining Algorithms to Extract Socioeconomic Status From De-identified Electronic Health Records. Pacific Symposium on Biocomputing: 22:230-241. *co-senior authors.
2016 Non, AL, Roman, JC, Gross, CL, Gilman SE, Loucks EB, Buka S, Kubzansky, LD. Early Childhood Social Disadvantage is Associated with Poor Health Behaviors in Adulthood. Annals of Human Biology: 43(2):144-153.
2015 Non AL, Thayer ZM. Epigenetics for Anthropologists: An Introduction to Methods. american Journal of Human Biology: the Official Journal of the Human Biology council: 27(3):295-303.
2015 Non AL, Gravlee CC. Biology and Culture Beyond the Genome: Race, Racism, and Health.American Anthropologist 117(4):737-738.
2014 Non AL, Rewak M, Kawachi I, Gilman SE, Loucks EB, Appleton AA, Roman JC, Buka SL, Kubzansky LD.Childhood Social Disadvantage, Cardiometabolic Risk, and Chronic Disease in Aduluthood.Am J Epidemiol 180(3):263-271.
2014 Non AL, Binder AM, Kubzansky LD, Michels KB. Genome-wide DNA Methylation in Neonates Exposed to Maternal Depression, Anxiety, or SSRI Medication During Pregnancy.Epigenetics-US 9(3):964-972.
2012 Non AL, Binder AM, Barault L, Rancourt R, Kubzansky L, and Michels KB. DNA Methylation of Stress-related Genes and LINE-1 Across the Healthy Human Placenta. Placenta: 33(3):183-187.
2012 Non AL, Gravlee CC, Mulligan CJ. Education, Genetic Ancestry, and Blood Pressure in African Americans and Whites. Am J Public Health 102(8):1559-1565.