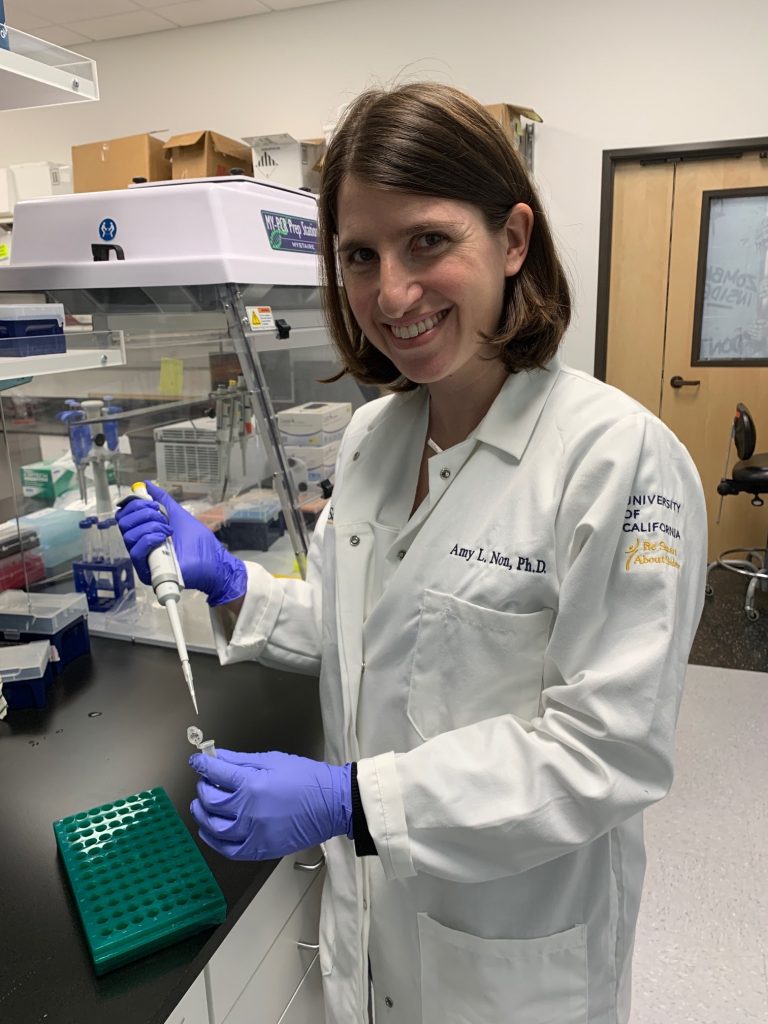 Profile
Research
Publications
Profile

Dr. Amy Non is a molecular anthropologist with an interest in the genetic and sociocultural contributors to racial and social inequalities in health.  Her lab investigates how social experiences can become biologically embedded early in life to affect health throughout the life course. To do this, they explore epigenetic mechanisms, or modifications to the genome, that can link early adverse environmental exposures with altered gene expression, potentially resulting in long-term consequences for adult health and disease. They have investigated DNA methylation at candidate sites in relation to early life adversity in Romanian orphans and genome-wide in children of Mexican-born immigrants, among other vulnerable populations. They are also investigating variation in microRNAs in human milk in relation to maternal mental health and stress. Additionally, her lab studies racial inequalities in health more broadly by investigating the role of genetics alongside the social environment, in addition to racial biases in medical diagnostics that may contribute to racial inequalities in chronic diseases including hypertension, liver disease, and lung function.
Education
B.S. in Biology and Anthropology, Brandeis University, Waltham, MA (2004)
MPH, with concentration in Social and Behavioral Sciences, University of Florida (2009)
Ph.D. in Anthropology, University of Florida (2010)
Robert Wood Johnson Health and Society Scholar, Harvard University (2010-2012)
Research

Dr. Non's overall research goals are to understand mechanisms driving health disparities across varying racial/ethnic groups and social classes. She examines biological mechanisms beyond the genome through which sociocultural experiences, often early in life, and even prenatally, can affect lifetime trajectories of health, or even intergenerational transmission of health disparities across diverse populations. Her current research agenda falls into three distinctive yet related lines of inquiry:

1)     Critique of the misuse of race and ancestry in genetics research. This research investigates the ways in which race, genetics, and genetic ancestry are often conflated and misused in medical research, particularly for study of chronic diseases such as hypertension and liver disease.

2)     Racial biases in medical algorithms and devices. Her lab group has investigated ways in which race corrections built into medical devices, such as the spirometer, or race-specific algorithms for diagnosing or treating hypertension may exacerbate racial disparities in health.  

3)     Social Epigenomics. This research focuses on how stress exposures and resilience factors may become biologically embodied to predispose children (or buffer them from) worsening physical and mental health trajectories over the lifecourse. Specifically, she has studied DNA methylation in Romanian orphan children randomized into foster care, placentas from mothers with depression or anxiety, adults living with HIV in relation to lifetime trauma, and children of Mexican immigrants to the US. She is also investigating epigenetic effects of stress hormones on developing neurons in vitro, as well as miRNA content of human milk in relation to maternal stress and social environments.
Publications

Recent Publications:

2023        D'Anna Hernandez, K, Lara-Cinisomo, S., Non, A.L. Changes in mental health symptoms and sociocutural factors across the COVID-19 pandemic in mothers of Mexican descent. Archives of Women's Mental Health. https://doi.org/10.1007/s00737-023-01345-w 

2023        Non, A.L. Bailey, B. … Rabay, C. …Conrad, DJ. Race-specific spirometry equations do not improve models of dyspnea and quantitative chest CT phenotypes. CHEST. 2023 (in press) https://doi.org/10.1016/j.chest.2023.07.019

2023        Non, A.L., Akong, K., Conrad, D.J. Is it time to end race and ethnicity adjustment for pediatric pulmonary function tests? Pediatric Pulmonology. 2023; 1-6. doi:10.1002/ppul.26444 

2023        Clausing, ES, Tomlinson, C.J., Non, A.L. Epigenetics and social inequalities in asthma and allergies. Journal of Allergy and Clinical Immunology. 2023; 151:1468-70. 

2023        Cerdeña, J.P., Grubbs, V., Non, A.L.  Racializing genetic risk: assumptions, realties, and recommendations. The Lancet. 

2022        Non, A.L. Clausing, E.S., D'Anna Hernandez, K.L.  Changes in sociocultural stressors, protective factors, and mental health for US Latina mothers in a shifting political climate. PLOS ONE. 2022;17(8);e0273548 

2022        Cerdeña, J.P., Grubbs, V., Non, A.L.  Genomic supremacy: the harm of conflating genetic ancestry and race. Human Genomics, 16, 18. May 2022. 

2022        Yu, J., Non, A.L., Heinrich E.C….Malhotra, A., Powell, F. Simonson, T. Time Domains of Physiological responses to hypoxia. Frontiers in Physiology (2022). Mar 24  

2022        Grubbs, V., Cerdeña, J.P., Non, A.L. The misuse of race in the search for disease-causing alleles. Lancet (2022) Mar 19; 399(10330):1110:1111. doi: 10.1016/S0140-6736(22)00488-3.

2022        Smith, R.A.W. and Non, AL. Assessing the achievements and uncertain future of paleoepigenomic research. Epigenomics (2022) Feb;14(4):167-173. doi: 10.2217/epi-2021-0382.

2021        Lux, V., Non, AL, Pexman, P, Stadler, W., Weber LA, Kruger, M. A developmental framework for embodiment research: the next step towards integrating concepts and methods. Frontiers in Systems Neuroscience.

2021        Lara-Cinisomo, S., D'Anna-Hernandez, K., & Non, A. L. (2021). Recommendations for Clinical Practice, Research, and Policy to Address the Effects of the COVID-19 Pandemic on Anxiety Symptoms in Immigrant and U.S.-Born Latina Mothers. Womens Health Issues. doi:10.1016/j.whi.2021.03.004 

2021        Clausing, ES, and Non, AL. (2021). Epigenetics as a mechanism of developmental embodiment of stress, resilience, and cardiometabolic risk across generations of Latinx immigrant families. Frontiers in Psychiatry. 12 DOI: 10.3389/fpsyt.2021.696827. 

2021        Leon-Perez, G., Richards, C. Non, AL.  Precarious Work and Parenting Stress Among Mexican Immigrant Women in the US. Journal of Marriage and Family. 

2021        Non, A. L. (2021). Social epigenomics: are we at an impasse? Epigenomics. doi:10.2217/epi-2020-0136. 

2021        Clausing, E. S., Binder, A. M., & Non, A. L. (2021). Epigenetic age associates with psychosocial stress and resilience in children of Latinx immigrants. Epigenomics. doi:10.2217/epi-2019-0343.

2020        Non AL, Román JC, Clausing ES, et al. Optimism and Social Support Predict Healthier Adult Behaviors Despite Socially Disadvantaged Childhoods. Int J Behav Med. 2020;27(2):200‐212. doi:10.1007/s12529-020-09849-w. 

2019     Non AL, León-Pérez G, Glass H, Kelly E, Garrison NA. Stress across generations: A qualitative study of stress, coping, and caregiving among Mexican immigrant mothers.   Ethn Health. 2019;24(4):378‐394. doi:10.1080/13557858.2017.1346184.